Published 20 Apr 2017 by IHNZ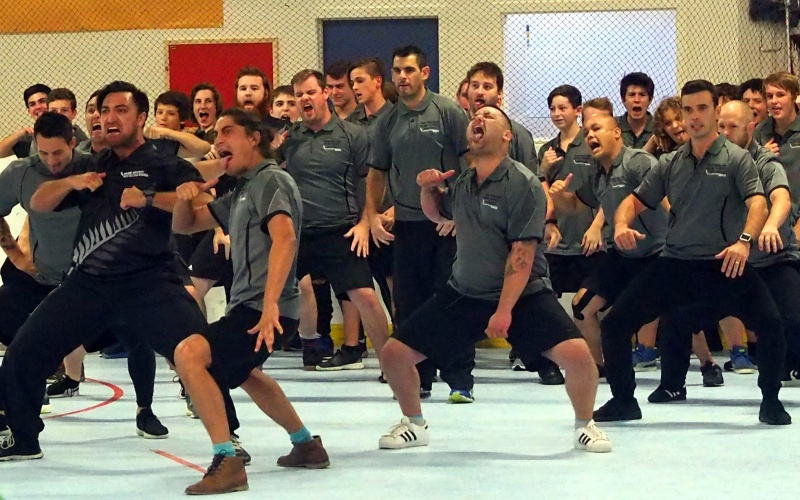 Oceania Inline Hockey Championships began as a trans tasman event in 1996 and was hosted in New Zealand in Napier. The sport has come a long way over the years with the introduction of more grades involving many more players. As the sport has developed internationally world championship events have seen the senior players in both men and women focus on world stage events. Oceania continues to have its place as an event. Itt has more recently become the focus for our junior teams to grow their game. The event also includes the Masters and Veterans grades although Australia were unable to send a Veterans team this year. 
The championships are being held in Hamilton hosted by Inline Hockey New Zealand. The event opened with an official welcome to the visiting Australian teams by Ngati Wairere, the Hon. David Bennett MP and IHNZ officials, followed by the game opener - Australian and New Zealand Masters showcasing the sport to attending spectators. 
The games continue through to Friday afternoon with the presentations early afternoon before athletes head back to their home bases.
Game results are:
Game 1 Masters NZL 2 - AUS 0
Game 2 12 Under NZL 6 - AUS 5
Game  3 14 Under NZL 2 - AUS 5
Game 4 14 Women NZL 0 - AUS 4
Game 5 16 Under NZL 3 - AUS 1
Game 6 12 Under AUS 2 - NZL 6
Game 7 14 Under  AUS 3 - NZL 0
Game 8 14 Women AUS 1  - NZL 0 ( triple OT)
Game 9 16 Under AUS 3 - NZL 2 ( OT)
Game 10 Masters AUS 1 - NZL 6 
Game 11 12 Under NZL 5 - AUS 1 (Gold to NZL)
Game 12 14 Under NZL5 - AUS 4 (OT) 
Game 13 14 Women NZL 1 - AUS 0 
Game 14 16 Under NZL 1 - AUS 4
Game 15 Masters 7 - AUS 3 (Gold to NZL)
Game 16 12 Under AUS 7 - NZL 5 
Game 17 14 Under AUS 5 - NZL 0
Game 18 14 Women AUS 3 - NZL 2
Game 19 16 Under AUS 5 - NZL 4 ( Gold to AUS after 3 OT) 
Game 20  Masters AUS 4 - NZL 3
Game 21 12 Under NZL 9 - AUS 3
Game 22 14 Under NZL 2 - AUS 6
Game 23 14 Women NZL  4 - AUS 0
Game 24 16 Under  NZL 2 - AUS 3
Game 25 Masters NZL 2 - AUS 3 
Click on an image to enlarge: